If you thought that starting the low FODMAP diet spelled the end to hummus, you need to try this Tangy Lime Low FODMAP Hummus recipe. Hummus has been around for decades and is a popular and versatile food. With chickpeas and olive oil, hummus is highly nutritious and rich in prebiotic fiber which keeps our tummies and our gut bugs happy. I could guarantee that on any given day, there is a container of hummus in our fridge.
Sadly, traditionally made or store-bought hummus is heavy in FODMAPs, and not suitable during the elimination phase of the low FODMAP diet. So step aside Roasted Garlic Sabra, this tangy lime low FODMAP hummus is super easy to whip together. If you don't have a lime, you can use a lemon instead.
Before pulling out your food processor, read the FODMAP notes first:
The serving size for this low FODMAP hummus is 3tbsp or 40g
Canned chickpeas become high FODMAP with servings over 40g, or 1/4 cup whole
Canned chickpeas are lower in FODMAPs than boiled chickpeas
Drain and rinse the chickpeas really well to wash away excess GOS
Chickpeas are a good source of prebiotic fiber, which means they feed the good bacteria in our gut
Go take out your food processor and grab a lime from the fridge and enjoy!
Recipe:
Tangy Lime Hummus
Hummus is a staple food that is packed full of nutrition.
Audrey Inouye:
Registered Dietitian, IBS Nutrition
Ingredients
1 19 oz can chickpeas, drained and well rinsed
1 tsp sesame oil (optional if you are in the mood for an asian twist)
2 tbsp olive oil
1 tbsp garlic infused olive oil
1 lime, juice and rind
salt to taste
Instructions
Place all of the ingredients except salt in your food processor and blend until smooth. Scrape down the processor bowl and blend again.
Stream in additional oil to get the desired texture.
Add salt to taste.
Serve drizzled with olive oil, sesame seeds, or another garnish if desired.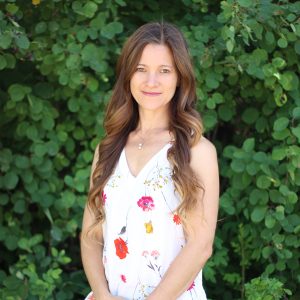 About Audrey:
I am a registered dietitian who specializes in IBS and the low FODMAP diet. I am based in Edmonton, Canada and I offer nutrition counselling by phone and video to anyone across Canada. If you are looking for help, have a look at my nutrition counselling page or get in touch for a free appointment.
Special thanks to: 
I'd like to thank my friend and colleague, Lauren Renlund who is also a FODMAP dietitian in Canada, for reviewing this recipe. Lauren has a delicious repertoir of low FODMAP recipes on her website.

Subscribe to Audrey's Newsletter!