As I've mentioned in previous posts, the low FODMAP diet is a medical diet which best implemented with the help from an expert FODMAP dietitian. It can be very tricky to follow and the learning curve at the beginning is pretty steep. Here are some ideas to help get you started.
Getting Started
Pick a date. There is no perfect time. There's always going to be a weekend soccer tournament or family dinner. Don't wait. Your best option is to start and you will be able to manage the rest.
Get help. You can schedule a free 20 minute Q&A session with me anytime. Here is the link to my schedule. Getting reliable help from a FODMAP trained dietitian is essential as there is a tremendous amount of out-dated information on the internet. I offer nutrition counseling by video and phone across Canada. You can see my nutrition counselling packages on my website.
Download the Monash Low FODMAP App and the FODMAP Friendly app. The Monash University app contains an extensive list of high and low FODMAP foods. The FODMAP Friendly app is smaller but it has a helpful percentage rating system. Both are very helpful apps.
Start a food and symptoms journal. It is very important to keep track of what you have to eat and drink as well as your symptoms. A foods and symptoms journal will help you learn about and manage your food triggers. You can use an app like My Symptoms or My Fitness Pal, or a simple notebook.
Find delicious low FODMAP recipes. There are tonnes of delicious low FODMAP recipes out there! Unfortunately, many of them are not up to date with the most recent FODMAP data. To guarantee that you are using low FODMAP recipes, I recommend the following websites.

Make a low FODMAP meal plan – Browse through these websites. Select a few delicious meals to make for the week. Record those meals in your phone calendar, kitchen calendar or on a meal planning template. The key thing is to write them down so you don't forget.
Make a list and shop – Write down all of the ingredients you need and head to the grocery store.
You don't have to do this alone. I have been supporting people on the low FODMAP diet in my dietitian practice for over 2 years. With my support, guidance and encourage along the way, you may find it to be easier than you thought!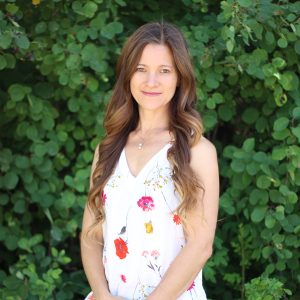 About Audrey:
I am a registered dietitian who specializes in IBS and the low FODMAP diet. I am based in Edmonton, Canada and I offer nutrition counselling by phone and video to anyone across Canada. If you are looking for help, have a look at my nutrition counselling page or get in touch for a free appointment.
Subscribe to Audrey's Newsletter!